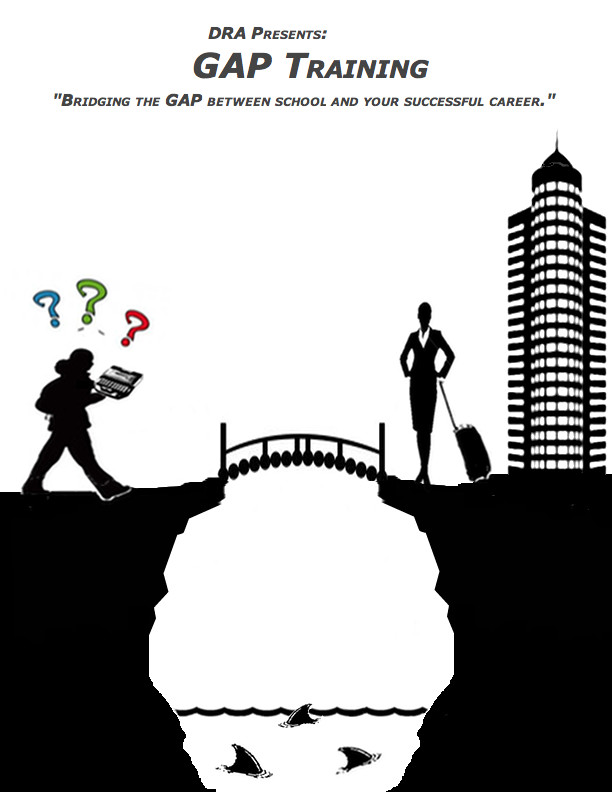 Calling All New CSRs and High-Speed Students!

CalDRA is proud to bring you the GAP 2.0 training seminar. If you're getting ready to cross over into the working world, let CalDRA help you bridge the GAP from classroom to working reporter.
Our GAP 2.0 one-day seminar will be a smaller, more intimate setting than our GAP 1.0 seminars, packed full of information.

We will cover:
Résumé formats that will help you land that first job
Hands-on examples of marking exhibits
Dealing with confidential transcripts
Learning how to handle different scenarios you might face in the deposition arena.
And much, much more. Every question is a good one, and we want to answer them all! Come with a list, and don't be shy.
If entering the working world is making you nervous, you're not alone. Let CalDRA help you build that bridge across those shark-infested waters and start you off on the right foot. After attending this seminar, you will be a more confident and marketable reporter.
July 8, 2017
9:00 a.m. - 4:30 p.m.
Lunch is included
LOCATION
South Coast College
2011 West Chapman Avenue, Orange, CA 92868
THE PANEL
Monyeen L. Black, CSR 10574, CCRR, RPR
President, CalDRA


Monyeen was a staff reporter for 15 years before starting her own small agency in the Bay Area. In addition to reporting her own clients, Monyeen is also a freelancer. She attended West Valley College and passed the CSR in 1994. Since 2004 her focus has been in construction litigation, and she has thrived on keeping the record of multiple attorneys in complex litigation.




Andrea Rinker-Chavez, CSR 13437, CCRR, RPR, CRR, CLR
District 4 Rep, CalDRA


Andrea has been a freelance reporter in the Southern California area for 8 years. In addition to serving on the CalDRA board of directors, she also teaches the deposition procedures class at South Coast College twice a year. Andrea holds the RPR, CRR, CLR, and CCRR designations, and qualified to take the CSR in 14 months while attending South Coast. Andrea enjoys reporting business-related depos and has worked hard to become a premier realtime writer.

Ivy Reid, CSR 13897


Ivy Reid is a freelance reporter living in Downtown Los Angeles and has been working since January 2014. She graduated from South Coast College in August 2013 and passed the November 2013 CSR on her first attempt. Now that she's gained several years' experience, she has found enjoyment in reporting various aspects of civil litigation, including contract law, real estate transactions, employment matters, medical experts, and more. Ivy's 2017 goals are to enter the area of court work and to home in on writing shorter to become realtime ready.
All attendees will receive a copy of the
GAP Transcript Formatting Reference Manual
($99 value)


REGISTRATION FEES


Students
Members - $119 ($89*)
Non-members - $179** ($149*)
Professionals & First-Year CSRs
Members - $199 ($169*)
Non-members - $379** ($349*)
*Repeat GAP attendee registration special discounted price point does not include complimentary GAP Transcript Formatting Manual.
**Save $$$, plus receive one year of CalDRA membership - join DRA today!