$229 - DRA member
$389 - Nonmember
$79 – DRA member / Students / Instructors
$219 – Nonmember / Students / Instructors
.6 CEUs available
Registration opens at 8:00 with coffee and breakfast rolls.
-oOo-
WHY SHOULD YOU GIVE UP YOUR SATURDAY?

Because in just ONE day, you will learn how to polish your transcripts and sharpen your courtroom skills!
---o0o---
9:00 a.m. to 12:00 p.m. -
Margie Wakeman Wells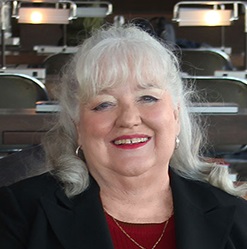 Some Random Comma Rules
&
The Dash -- It Is Not Just for Interruptions
This amazing grammar guru will floor you with her vast knowledge and entertain you with her individual style of teaching. Learning grammar and punctuation has never been more fun!

---o0o---
Lunch on your own - 12:00 to 1:30 p.m.
---o0o---


1:30 p.m. to 5:00 p.m. - Freelancer Courtroom Survival Guide
What you need to know to survive as a freelancer in the courts.
Learning the ropes of court work can be daunting. Fear not. This amazing panel of reporting moguls will guide you through the process from A to Z. Bring your questions. They have the answers. Don't miss this opportunity to learn from the best.
OUR PANEL
Jo Ann Bryce, CSR, RMR, CRR, FCRR
Jo Ann started her reporting career in 1975 working for the California Public Utilities Commission. She received her CSR l976, and has since then received her RPR, RMR, CRR, Federal Certified Realtime Reporter as well as a Nevada CCR. Throughout her distinguished career she has worked in federal and state court as well as a freelance reporter and a firm owner. She is currently an official reporter for the Northern District of California in San Francisco. Jo Ann has received many awards, most notably winner of many state and national realtime competitions.

Kelly Bryce Shainline, CSR, RPR, CRR
Kelly Bryce Shainline started out her court reporting career as a pro tem for the United States District Court, Northern District of California. A few years later, an opportunity opened up with the Alameda County Superior Court. Kelly was requested to work with the Honorable Judge Gonzalez Rogers reporting civil matters in Department 24. Kelly is now bringing her knowledge and experience to cover the civil courts who don't provide reporters, reports depositions, and serves as a pro tem reporter for the United States District Court, Northern District of California. Kelly also served on the Court Reporters Board of California Best Practices Committee in 2015. Kelly was hired as an official reporter for San Mateo County March 26, 2018.

Mary Ann Scanlan, CSR, CLR, CCRR, CRR, RPR, RMR
Mary Ann Scanlan has been a court reporter since 1990. After graduating from Humphrey's College, she became a freelance reporter in San Francisco and traveled extensively to Europe and Taiwan reporting high-profile cases. In 2005 Mary Ann became an official for San Francisco Superior Court and worked until the layoffs in October of 2011. She now owns her own firm, Scanlan Stone Reporters, which covers trials and depositions. She holds the certifications of CLR, CCRR, CRR, RPR and RMR. She loves traveling with her husband, spending time in Napa, and black and white photography.
Connie J. Parchman, CSR, RPR, CRR, CCP
Connie received her California CSR in 1983. She also holds RPR, CRR, CCP and CLR certifications. After receiving her CSR license, Connie worked as a freelance reporter. From 1985 to 2008 she was an official reporter for Alameda County; 2008 to 2010 official reporter for City and County of San Francisco. Since 2010 Connie has been an official reporter for Alameda County, and from 2016 to present is the managing reporter for Alameda County.
While you're there, become realtime certified with CalDRA's gold standard CCRR exam and add your name to the short list of elite premium realtime reporters who hold this certificate. You can do this!