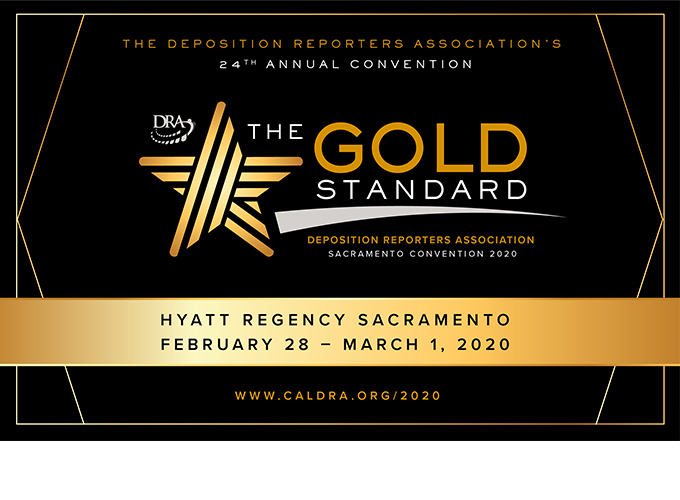 Join CalDRA February 28 - March 1, 2020, at the Hyatt Regency Sacramento and help us celebrate our 24th annual convention. Get ready for an exciting weekend of learning, networking, and rekindling friendships! We have a relaxed but productive weekend planned for you, which includes the California Realtime Competition, the CCRR exam, and a whole host of wonderfully informative and useful seminars. Speakers: Nancy Varallo, Debbie Dibble, Yvonne Fenner, Jeanne Iverson, Margie Wakeman Wells, Ed Howard, Antoinia Pulone, Jamie Asbury, Monyeen Black, Sarah Seitz, and Erich Zielonka providing fantastic seminars. Join us at the Friday night cocktail reception with entertainment provided by Mark Herin, performing a mix of classic rock, blues, and R&B.
We have two tracks to serve you:
Professionals Track
Firm Owners Track
1.10 CEUs

Be sure to make your room reservations early and take advantage of CalDRA's special room block pricing.
Friday, February 28
Registration Open 9:00 AM
California Realtime Competition
10:00 AM – 12:30 PM
Sign up to compete when registering for the convention at the discounted rate of $99 -or-
Click here to sign up for the California Realtime Competition separately from the convention
Professionals
Firm Owners
Students
.15 CEUs Depo Dilemmas / AskDRA
1:30 PM – 3:00 PM
Antonia Pulone, Yvonne Fenner & Ed Howard
A perfect trifecta you won't want to miss. Do you have questions for CalDRA or the Court Reporters Board? Depo Diplomat Antonia Pulone, CalDRA lobbyist Ed Howard, and CRB Executive Officer Yvonne Fenner think they are ready for whatever we can throw their way. Let's see if we can stump them! Put on your thinking caps and come with a list of questions for the pros. Get answers you can really rely on. We guarantee you'll walk out of this seminar feeling educated and more confident throughout your workday.
Afternoon Break with Exhibitors
3:00 PM – 3:30 PM
Professionals
Firm Owners
Students
.15 CEUs Disastrous to Delightful: the Benefits of an Ergonomically Designed Home Office
3:30 PM – 5:00 PM
Jeanne Iverson
Let's face it, the continually evolving technology movement is here to stay. The number of workers performing some or all of their tasks at home increases every year. Much of it is done while crouched over their laptops at the kitchen counter or slumped on the couch. This is inefficient, unproductive, uncomfortable and, most importantly, not healthy for our bodies and minds. Jeanne Iverson, Human Factors Ergonomics Engineer (M.S. HFE) and Certified Professional Ergonomist (BCPE) has been providing ergonomic solutions for over 20 years. Ms. Iverson will highlight the main ergonomic risk factors related to ill-equipped home office setups and will present easy realtime solutions for an aesthetically pleasing place of productivity, comfort, and overall well-being. This 1.5-hour seminar will include handouts and incentive-based computer tool giveaways such as, keyboards, mice, laptop stands, footrests, palm supports and monitor arms.
CalDRA's Famous Cocktail Party with Mark Herin • 5:30 PM – 9:00 PM
Come celebrate another successful year with the most entertaining court reporting association in the nation! CalDRA's famous Friday Night Cocktail Party is sure to kick off this amazing convention weekend with a bang. Grab a drink with a long-time colleague, make a new friend or two, and network for that next lucrative job over canapes and conversation. Entertainment provided by Sacramento's own Mark Herin, performing a great mix of classic rock, oldies, blues, and original songs. Songs from Neil Diamond to Eric Clapton to the Beatles will have you singing along and dancing !
Saturday, February 29
Registration Open 7:30 AM
Exhibitor Hall Open 7:30 AM
Continental Breakfast 7:30 AM
Professionals
Firm Owners
Students

.20 CEUs Keynote - Watson Today, Quantum Computing Tomorrow
9:00 AM – 11:00 AM
Nancy Varallo
Since the advent of the tape recorder, steno reporters have faced constant threats from advancing technology. IBM's Watson is today focusing on Speech to Text. With billions of research dollars pouring in, quantum computing is the next major advance being worked on by Microsoft, Google, IBM, and others. In the face of these threats, will there still be a place for us? This seminar will give you the facts you need to know on this critical question.
Morning Break with Exhibitors
11:00 AM – 11:30 AM
Luncheon: President's Remarks and Awards
11:30 AM – 1:30 PM
Hear from CalDRA's President, in addition to learning the outcome of the Realtime Competition.
Professionals
Firm Owners
Students

.15 CEUs The Best Defense is a GREAT Offense
1:30 PM – 3:00 PM
Debbie Dibble, NCRA Vice President
YOU are the greatest resource and asset our profession has. Debbie Dibble will familiarize you with some of the current battles raging in the court reporting world and introduce you to the strategic offensive principles of war. COURT REPORTERS are powerful weapons. Polish your gold star to a shimmering sheen and remind the world that we are the ultimate resource for an accurate, timely, and indisputably authentic record. Competing methods do not stand a chance in this marketplace. Licensed reporters are the gold standard. WE are the proof!
Firm Owners
.15 CEUs Project Steno
1:30 PM – 3:00 PM
Nancy Varallo
In this motivational and upbeat presentation, we will discuss the need for all of us to work together to bring young people into the court reporting and captioning fields. Learn about Project Steno's Cover Your Bases program, designed to introduce military spouses to the art of stenography. Hear about our efforts to launch programs at high schools all over the country. Learn about our tuition assistance / student monitoring program and get energized! Walk away with a new can-do spirit. Yes, WE can do this!
Afternoon Break with Exhibitors
3:00 PM – 3:30 PM
Professionals
Firm Owners
Students

.15 CEUs Building a Foundation for Solid Realtime
3:30 PM – 5:00 PM
Monyeen Black & Sarah Seitz
Face your fears and prepare yourself for realtime! Ready to take the realtime plunge and don't know where to start? Already delivering realtime services but ready to take your skillset to the next level? Monyeen and Sarah, two experienced realtime reporters, will show you a series of techniques to further develop and adjust your writing style, giving you the confidence to write realtime to your clients. This seminar will also cover the ins and outs of realtime prep, including extensive tips and tricks on maximizing your use of both the Eclipse and CaseCATalyst software platforms. From veteran to novice, this session will cover a wide variety of topics to suit every experience level. Being prepared and confident about the product you are delivering to clients ensures less stress and more money on each job, every day, and ensures that you are always in demand, no matter the type of case. Help reduce stress in your everyday working life by perfecting your realtime skills.
Firm Owners

.15 CEUsRock Solid Relationships
3:30 PM – 5:00 PM
Debbie Dibble
As we firm owners navigate the never-ending battle of daily calendar coverage, rock-solid relationships with our reporters, law firms, and other professionals have become increasingly more important. Let's have a discussion, from both sides of the equation, about how to better utilize the resources that we have, making our work life more efficient. Bring your super brainpower to this seminar and help the group develop strategies to not only work harmoniously with our clients, but to empower our reporters to be more efficient, more productive, and more available.
Vendor Reception
5:00 PM – 6:00 PM
Join CalDRA's Board of Directors and vendors for a champagne toast and spend some time browsing all the products brought to the convention for you! Be sure to take advantage of the special convention pricing our fabulous vendors are offering.
Sunday, March 1
Registration Open 8:00 AM
Exhibitor Hall Open 8:00 AM - 1:30 PM
Continental Breakfast 8:00 AM
Professionals
Firm Owners
Students

.15 CEUs You Don't Want a Comma There?
9:00 AM – 10:30 AM
Margie Wakeman Wells
Everyone's favorite grammarian is back with another amazing presentation to sharpen your English skills to a fine point! In this session, Margie will cover rules on where NOT to use the often-abused comma. This valuable discussion will revolve around the rules of English grammar and how they determine whether or not to use punctuation in certain constructions. This seminar will also break down punctuation that is mistakenly put between the subject and verb, after introductory elements, and in compound sentences. Using a comprehensive PowerPoint presentation to make following along easier than ever, as well as an open question-and-answer format, attendees will leave with the tools they need to produce grammatically superior products for their clientele.
Firm Owners

.15 CEUsReady for Remote Reporting?
9:00 AM – 10:30 AM
Jamie Asbury
In today's rapidly evolving world, it has become imperative that court reporters are offering the latest technological offerings to their clientele as they hit the marketplace. Come discover, learn, and master the practices of remote reporting to ensure your smoothest remote deposition yet! In this seminar, Jamie will break down the best technology applications and platforms available, the behind-the-scenes equipment setup and testing to be performed, how to approach exhibit handling inquiries and preparation, and much more. Last-minute depo halfway across the state? Never fear, firm owners! With the tips and tricks learned from this valuable session, covering that emergency proceeding will prove easier than ever.
Morning Break with Exhibitors
10:30 AM – 11:00 AM
Professionals
Firm Owners
Students

.15 CEUs Money Today and Tomorrow
11:00 AM – 12:30 PM
James Bourbeau
Is there a real benefit for me to incorporate with regard to AB5? With the Dynamex decision threatening the current structure of deposition reporting in California and AB5 looming in the forefront, this question has become more pertinent than ever for freelancers in our state. Have your burning questions answered about these important issues, as well as the financial implications of incorporation, at this informative seminar.
Firm Owners

.15 CEUs Project Collect & AskDRA for Firm Owners
11:00 AM – 12:30 PM
Antonia Pulone & Ed Howard
Just another great example of how your CalDRA fights for you! CalDRA's "Project Collect," created years ago as a service to its members, successfully sought changes in the law, making it easier for you to collect from attorneys and law firms who refused to pay for your services. This refresher course will review these legal protections with seminar attendees, ensuring that you can cite code language intelligently when demanding payment. This helpful seminar will also cover successful pursuit of legal action for more difficult collection cases that require it.
Afternoon Break with Exhibitors
12:30 PM – 1:30 PM
CCRR Examination
1:30 PM – 3:00 PM
Separate Registration Required
CLICK BELOW TO REGISTER NOW FOR
PROFESSIONALS & NEW CSRs
FIRM OWNERS
INSTRUCTORS
STUDENTS
Hotel Information & Room Reservations
HYATT REGENCY SACRAMENTO
1209 L Street Sacramento, California 95814
916-443-1234
Room Rate $169.00
Cutoff is 2-13-2020
Resort highlights
Convenient location adjacent to the State Capitol and Convention Center
Ten minute walk to historic Old Sacramento Waterfront
Enjoy history and modern luxury featuring Hyatt Grand Beds
Four dining options including a Starbucks and upscale steakhouse
Contemporary decor and tech-savvy conveniences
Esquire IMAX Theatre is adjacent to Hotel
Group rate available until February 13, 2020. Starting at $169.00 per night (subject to availability).
Make your room reservations at this special rate by calling 916-443-1234 or 877-803-7534, or reserving online! When calling, you must refer to the event name: DRA Annual Convention.
Hotel Amenities and Features
Spacious rooms with minibars, free WiFi & coffeemakers
Heated outdoor pool open year-round
Full Service Spa
24/7 Fitness Center
Valet and Self parking
Resources for more Information
https://metrochamber.org/
Travel & Directions
Airport (SMF) – 12 miles, 15 minute drive. Contact the hotel for assistance with reservations for Super Shuttle, Yellow Cab, or other ride sharing options.

From the North: Take I-5 South to Sacramento. Follow I-5 South to J Street in Sacramento, and exit the freeway at Exit 519B.
Take J Street toward downtown to 12th Street. Turn right on 12th Street, hotel will be on your left,

From the South: Take I-5 North to Sacramento. Follow I-5 North to J Street in Sacramento, and exit the freeway at Exit 519B,
Take J Street toward downtown.to 12th Street. Turn right on 12th Street, the hotel will be on your left.
From the East or West: Take I-80 East to the I-5 to Sacramento.. Or the I-80 West to the I-5 to Sacramento.. .
Exit 519B and follow J Street to downtown. Turn right on 12th Street, hotel will be on your left.

From the Sacramento International Airport: Head south on Aviation Drive. Continue straight to stay on Aviation. Continue onto Crossfield Drive, turn left. Merge onto Airport Blvd. Merge onto I-5 South via the ramp to Sacramento. Follow I-5 South to J Street in Sacramento. Take exit 519B from I-5 South. Continue on J Street. Turn right on 13th Street. Turn right onto L Street. Turn right again, hotel will be on your left.
Early Bird Rate
Available through January 17, 2020
Regular Rate
Available through February 21, 2020
Late/On-site Rate
Starting on February 22, 2020
CalDRA Member
$499 Early / $549 Regular
$649 Late/On-site
$279 One Day / $329 Late/On-Site
Nonmember
$689 Regular / $789 Late/On-site
$379 One Day / $429 Late/On-Site

CalDRA Member – $649 Regular
$749 Late/On-site
Firm Owner plus 1 employee* - $949
$1049 Late/On-site
Firm Owner plus 2 employees* - $1249
$1349 Late/On-site
Nonmember – $789 Regular
$889 Late/On-site
Firm Owner plus 1 employee* - $1089
$1189 Late/On-site
Firm Owner plus 2 employees* - $1389
$1489 Late/On-site
*Must be a current employee of registered firm owner
FULL REGISTRATION
CalDRA Member – $299 Regular
$349 Late/On-site
Nonmember – $439 Regular
$489 Late/On-site
FULL REGISTRATION
CalDRA Member – $299 Regular
$349 Late/On-site
Nonmember – $439 Regular
$489 Late/On-site
Additional Options
Special Events
Social Events Guest Pass – $299
$399 Late/On-site
Includes Friday Reception, Saturday Luncheon, Exhibitor Hall Access
Friday Reception – $109
Saturday Luncheon – $69
CCRR Examination
Requires Separate Registration Fee
Member – $175
Available to CalDRA, COCRA, or CCRA members
Nonmember – $335
California Realtime Competition – $99 with full convention registration
(See rules for eligibility)
Become a Member / Renew Membership
Professional Level (CSR) – $150
Professional Level (First-Year CSR) – $30
Associate Level (Non-CSR) – $150
Instructor Level – $50
Student Level – $30
Sponsor A Student
CalDRA Student Membership – $30
Student Full Convention: Member – $299
Student Scholarship / General – ANY AMOUNT
Full Registration Fee includes: All seminars, exhibit hall, continental breakfast, Saturday Luncheon, refreshment breaks in the exhibitor room, handout materials, and the Opening Reception. Cancellations/refund requests must be received in writing (fax or email accepted) no later than 4:00 pm on February 7, 2020, to qualify for a refund. There will be a $50 administrative fee for all refunds. CalDRA reserves the right to substitute speakers and seminars due to unforeseen and/or unavoidable circumstances. CalDRA and its sponsors claim no liability for the acts of any suppliers to this event nor for the safety of any attendees while at or in transit to or from this event. ** CalDRA will award scholarships at the Saturday Luncheon.