DRA STORE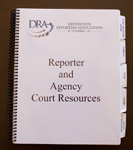 Reporter and Agency Court Resources book - DRA Member- $60.00 / Non-Member - $110.00
Stop searching the web for the court forms and formats you need. The DRA Reporter and Agency Court Resources Guide is indexed, spiral-bound, and tabbed guide to court work. We have compiled the sample formats, folios and forms you need to comply with the codes, regulations and rules applicable to court work, including FAQs and tips for freelancers working in court, appeal transcript guidelines and samples, folio rates and court reporter user fees by county, as well as contact information for ex-officio court reporters in Alameda, Los Angeles, and San Francisco counties. Great resource for reporters and agencies!



CCRR Practice Dictation CDs
Are you wanting to get ready for the CCRR Exam? These CDs are an excellent way for you to prepare for the exam. Each tape contains four tests given by DRA.

Each CD contains four recordings from prior CCRR exams given by DRA.
CCRR Practice CD(s) - $22.00 each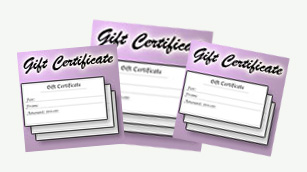 DRA Gift Certificates

A great gift to give to a coworker or student CSR.
Available in membership amounts of $30.00, $50.00, $100.00, and $150.00